This copper-blond beer is very fruity; and hoppy, yet with a full malt backbone; and has a very complex aroma and taste profile. Some even consider it to be the brewery's best beer. I'm not taking sides on that issue myself, except to say I drink it whenever I can! Avec les Bons Voeux has a long period of maturation, and its base is dry-hopped. It is refermented in 75 cl and 1.5 liter Magnum bottles, and offered on draft as well. Due to its success, it is now produced year-round.
In the 1980's, organically produced beers began to gain popularity in Europe, where they are called biological (bio for short.) Marc Rosier and Dupont were on the forefront if this wave in Belgium, and added bio beers to their portfolio beginning in 1990. Saison Biologique and Moinette Biologique were the first.
Moinette Bio (Foret in the American market) is similar to its stronger, blond cousin, but is a bit mellower and a little lighter in both body and alcohol. It has herbal, spicy notes and 7.5% abv. It was the first Belgian beer to be certified as organic by the U.S. Department of Agriculture. It has been imported stateside for ten years.

Photo: spent grain at Brasserie Dupont.
Saison Bio (5.5%) is a dry, bitter, citrusy beer that is a fine session brew. Both beers are refreshing and with thirst-quenching properties. Current brewmaster Dedeycker created Biolégère in 1992. This saison weighs in at just 3.5%, and is one of Belgium's finest session brews. It is renamed Avril for the U.S. market. Biolégère was created by Dupont due to the requests of a large number of potential clients who wanted an organically produced beer that was low in alcohol, but that had complex flavors and aromas.

Photo: Olivier Dedeycker with some of the brewery's beers
There are few beers that pack in such fine hoppiness and fruity citrusyness into such a low abv beer. The thirst quenching properties of Biolégère make it an ideal warm weather brew.
Dedeycker then created Blanche de Hainaut Biologique in 1999. This is a superb witbier, or bière blanche as they say in Wallonia. Blanche de Hainaut Bio (5.5%) is a full-bodied, satisfying Belgian white beer. It uses organically produced barley, hops, wheat, coriander and orange peel. The coriander and orange peel are added during the boil. The good news for we beer lovers stateside is that Vanberg & DeWulf started importing this brew into the U.S. for the first time ever, in 2011. It is renamed Foret Blanche and offered in 75 cl bottles and on draft here.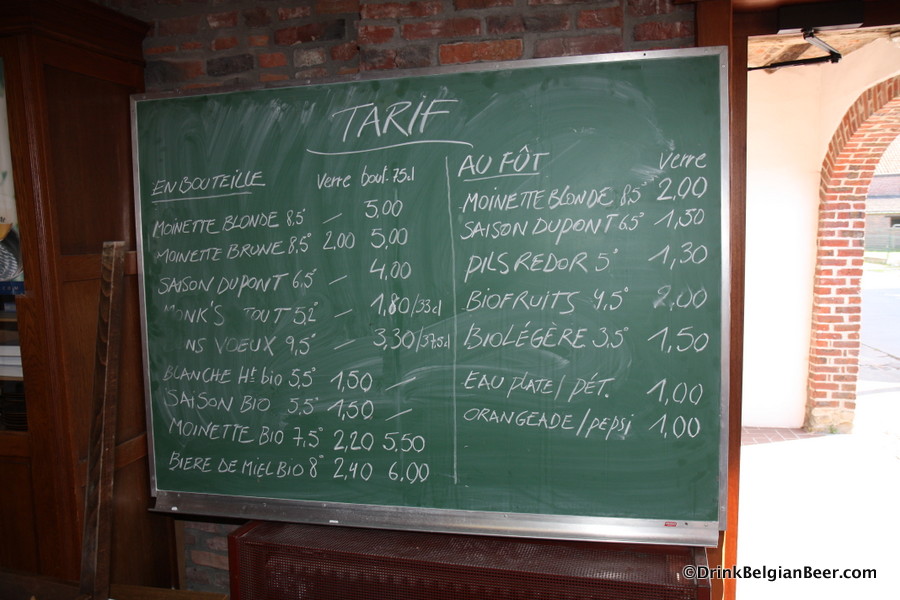 A photo of the beer board, featuring Dupont's take-away prices in 2011.
Bière de Miel biologique was first brewed at Dupont in 1997. Miel means honey in French, and in fact Bière de Miel was a specialty of the Rimaux-De Ridder farm by 1880. It won numerous awards at various agricultural fairs and was a very popular beer. When the Dupont family bought the brewery in 1920, they stopped production of this honey beer.
Marc Rosier and Olivier Dedeycker decided to bring it back in an organic version as a homage to his farmstead brewery's past. Dedeycker created the recipe. The brew is made with chestnut honey. While it does have a strong honey taste, it is not particularly sweet. It does have orange and citrus notes, and the honey makes this 8% abv brew taste fairly light-bodied, with a dry finish. It is also imported to the U.S.
Vanberg & DeWulf, in fact, had a banner year in 2011, bringing five of Dupont's beers stateside for the first time. The one that I looked forward to most was Cervesia, renamed Posca Rustica for the American market. Cervesia is a gruit: a beer using herbs, flowers and spices such as sweet woodruff and bog myrtle, among a dozen others, in its recipe.
One Comment